For this post I created an infographic on the "language learning formula" that allows to learn a language effectively. This formula shows that motivation and opportunity are essential to learn a language, where opportunity is defined as the "time spent inthe language" multiplied by "the methods used to learn the language". Time spent in the language is defined as time spent using the language (speaking, listening and writing) rather than time spent learning its grammar.
I believe that these are the 3 essential ingredients for effective language learning and combined can have a synergetic effect on learning.
The infographic can be shared and used in other websites following the creative common license described at the end of the post.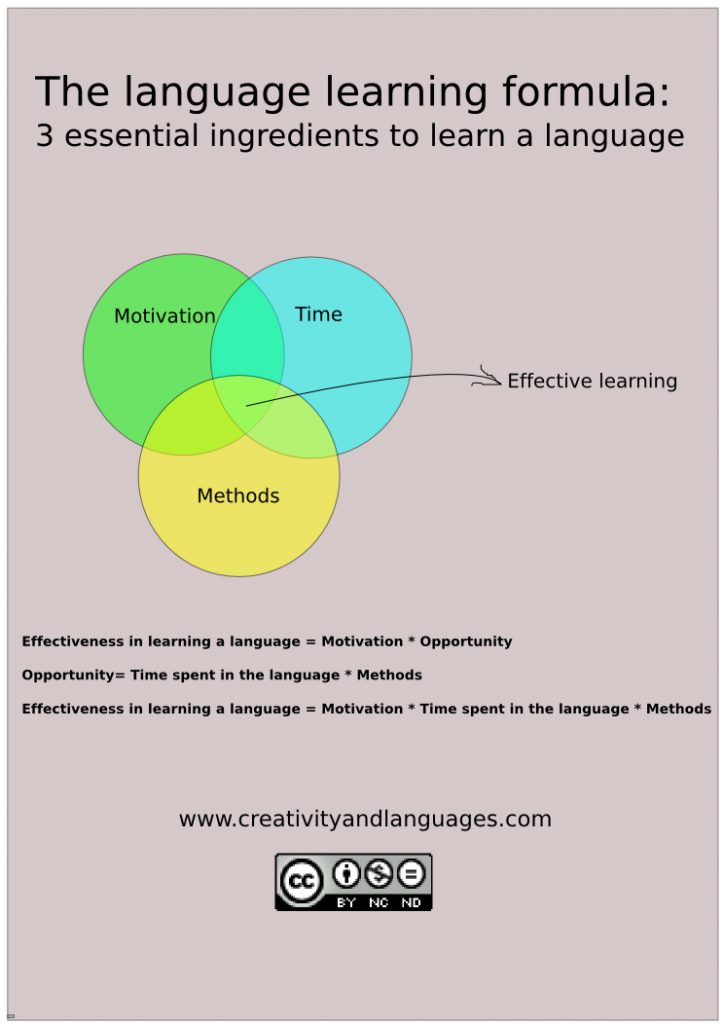 Infographic on language learning by creativityandlanguages.com is licensed under a Creative Commons Attribution-NonCommercial-NoDerivs 3.0 Unported License.
Based on a work at creativityandlanguages.com.
Related content:
The difference between incidental learning and deliberate learning and why it matters to language learners
Is learning a language more similar to the process of learning to play piano or to the process of learning history? (About learning fast)
How to stick to your new year's resolution of learning a foreign language
Learning to love the plateau – why sometimes being patient does pay off
The secret to learning German? Forget about the declinations!